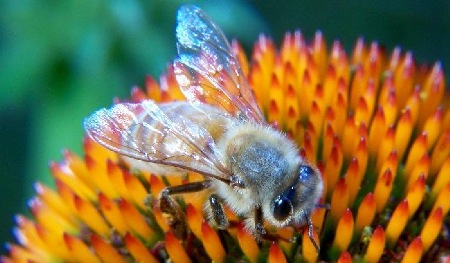 A strong hive of bees contains approximately 75,000 bees. The queen bee lays approximately 1,500 to 1,800 eggs a day during summer months. A queen bee can lay her own weight of eggs in one day. Her average life span is three to four years.

Worker bees live only five or six weeks. Their wings wear out while gathering honey. The drones are feed by the working bees; they cannot feed themselves. Actual weighings have shown that it takes about 20,000 trips to bring in a pound of nectar from the flowers and blossoms.

To gather a pound of honey, a bee flies a distance equal to more than three times around the world. It takes 160,000 bee hours to produce a pound of pure ripened honey.

Honey is rich in many vital minerals from the flowers and plants. By an infallible instinct, the bee chooses only those flowers which are highest in quality, manufacturing a perfect food derived from only the healthiest plants.

Bees are skillful little creatures who serve one another and unwittingly they serve us. The industrious workers make three times as much honey as the hive needs, which enables us to enjoy this nutritious food.

The honey bee is very important. It increases fruit, vegetable and other crops 25% to 30% by pollination. Our food supply from these sources would decrease greatly if it were not for the honey bee.

Many industries benefit from beekeeping. For example, beeswax is used for making beautiful candles that burn slowly and do not drip. Beeswax is also used in many types of cosmetics, floor waxes, furniture polish and paints.

HONEY FACTS

Honey is a natural, unrefined food, unique in that it is the only un-manufactured sweet available.

Honey contains minerals and vitamins for the growth of the body- silicon, iron, copper, lime, manganese, chlorine, phosphorus, sulfur, aluminum, magnesium, vitamin B, vitamin C, along with levulose and dextrose.

Honey is one of nature's most powerful germ killers. Bacteria cannot survive in honey.

For a quick "pick-me-up" try honey. It's 99% pre-digested and moves quickly into the bloodsream.

A cup of honey weighs 12 ounces, of which not quite one fifth is moisture. This yields approximately 9 1/4 ounces of carbohydrate.

Honey crystallizes. That's its nature. Taste and purity is not affected. In fact, it makes a delicious crunchy spread in this form. To bring honey back to its natural liquid state, place container of honey in a pan of warm water until crystals disappear.

Store honey in a dry place. Freezing does not injure the color or flavor, but may hasten granulation. Avoid damp places for storage because honey has the property of absorbing and retaining moisture. Do not put honey in the refrigerator.

There are more than 250 different naturally flavored honeys in the USA. The flavor and color of honey depends upon the flowers and blossoms from which the bees gathered the nectar.

Liquid honey is obtained by uncapping the combs and forcing the honey from the cells by centrifugal motion; and differs from comb honey only in the absence of the comb.

BAKING WITH HONEY

Honey may be substituted for sugar cup for cup. Reduce the total amount of other liquids by 1/4 cup per cup of honey. When there are no liquids in a recipe, additional flour can be added to compensate for the liquid honey. Lower baking temperature 25 degrees to prevent overbrowning.

HONEY IN CANNING AND PRESERVING

Sweet Fruits - 2 cups honey to 4 cups boiling water

Less Sweet Fruits - 2 cups honey to 3 cups boiling water

Sour Fruits - 2 cups honey to 2 cups boiling water

Add honey to water and boil together for 5 minutes. The amount of sweetening used depends on the individual taste. Too much sweetening spoils the natural flavor of the fruit.

Allow 1/2 pint of syrup to 1 quart jar of fruit. Estimate 2 pounds fruit for each quart jar. Can a small amount at one time.

HONEY IN JELLIES AND MARMALADES

There is a different technique to jelly making when using honey.

Cook fruit in small amount of water. Make but tree or four glasses of jelly at one time.

Use a large pan or kettle, for honey has a tendency to foam during cooking. Boil jelly rapidly.

Where 100% honey is used, an end-point of 11 to 12 degrees F above that of boiling water gives a good consistency.

PRINCIPLE COMPONENTS OF HONEY

| | |
| --- | --- |
| Water | 17.7 % |
| Dextrose | 34.0% |
| Levulose | 40.0% |
| Sucrose | 1.9% |
| Dextrins | 1.5% |
| Ash | 0.18% |
| Other substances | 4.22% |
Small amounts of silica, iron, copper, manganese, chlorine, calcium. potassium, sulfur and other elements necessary for the human body are also found in honey.

ENZYMES

Invertase (converts sucrose to dextrose and levulose)
Diatase (converts starch to maltose)
Catalase (decomposes hydrogen peroxide)
Inulase (converts inulin to levulose)
Aromatic alcohols (mannitol, dulcitol, etc.)
Maltose - rare sugars (sometimes melezitose, etc.)
In every 100 grams of honey there is 0.18 of a gram of mineral constituents.

VITAMINS

Thiamine (B1)
Riboflavine (B2)
Pyridozine (B6)
Pantothenic acid (B)
Nicotinic acid (B)
Ascorbic acid (C)